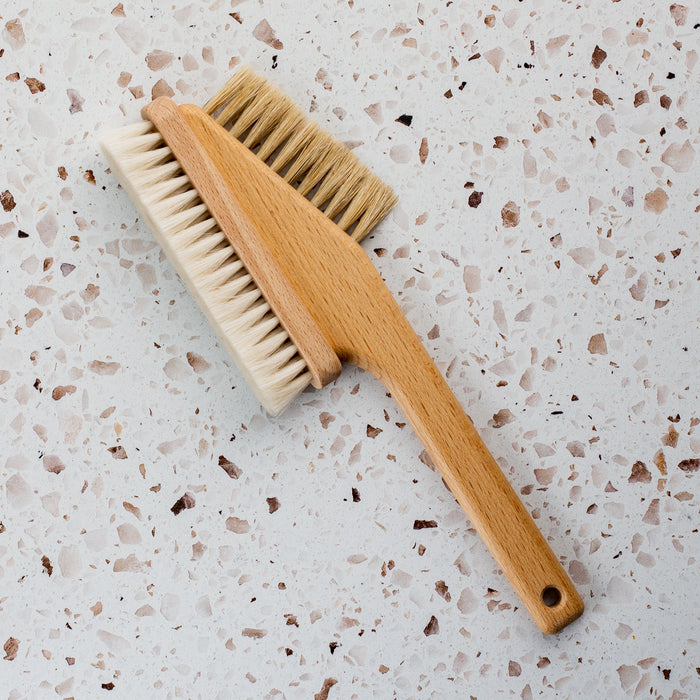 Redecker Oiled Beechwood Natural Goat Hair Bristle Clothing and Computer Brush
SKU: 952524
For cleaning screens, keyboards, and telephones; the antistatic properties of goat hair makes this Redecker Oiled Beechwood Natural Goat Hair Bristle Computer Brush essential for all computer owners. The upper narrow row of strong bristles easily gets between the keys on a computer keyboard or the buttons on a telephone etc. With the lower, wider and softer side you can remove dust from the monitor. This brush is also suitable for all other electronic devices.
Best for gently cleaning and removing dust, crumbs and debris from delicate computer screens, monitors, phones and other electronics without scratching surfaces as well as clothing; also suitable for pianos, keyboards and glass tables. Firm yet flexible upper row of bristles ideal for cleaning keyboards or other hard-to-reach or narrow spaces; bottom row of extra-soft, goat hair bristles best for dusting screens or delicate surfaces. Soft and flexible goat hair bristles clean gently yet effectively, reaching crevices and restoring luster; protect laptops and other tech with naturally anti-static properties.
The first handcrafted Burstenhaus Redecker brushes were produced in 1935. Today, the name Burstenhaus Redecker stands as it has for many years for an ideal combination of natural quality, function and design. It lives from the blend of inventiveness, sound craftsmanship and creativity.

Dimensions:
10.25 inch length

 

x

 3.5

 inch width x 1 inch height
Details:
natural goat hair; humanely removed

oiled beechwood
clean bristles with a mild soap and warm water solution; air dry with bristles facing down to prevent damage to wooden handle
made in Germany