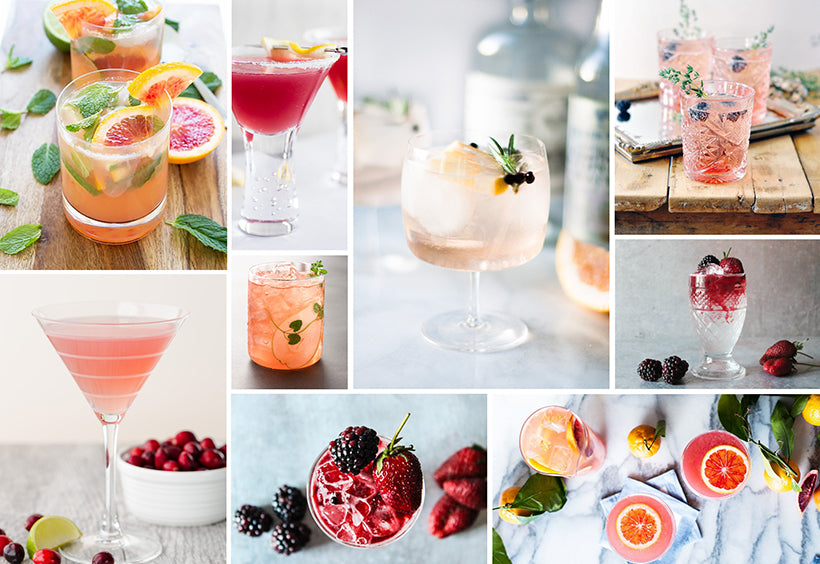 Top 5 Spring Cocktail Recipes
Spring is in the air! Flowers are blooming, windows are propped open and fresh breeze revitalizes your home. As we end our winter hibernation and transition to more outdoor activities, we inevitably have more social engagements. Brunching on the weekends has practically become its own sport. Celebrate sunshine, warmth and friends with a toast. Nothing makes spring better than these Top 5 Spring Cocktail Recipes that will leave you feeling refreshed.
Blackberry Thyme Champagne Cocktail

Ingredients:
   FOR THE BLACKBERRY SYRUP
    - 1/3 cup blackberries, plus 8 more for garnish
    - 1/3 cup water
    - 1/3 cup sugar
   FOR THE COCKTAIL
    - 1 bottle of Prosecco or champagne
   FOR THE GARNISH
    - 4 sprigs of thyme
Instructions:
    - In a small saucepan, bring the blackberried, water and sugar to a boil. Turn to low and let simmer for 10 minutes.
    - Strain blackberries and let syrup cool.
    - Add 2 tbsp. of syrup to the bottom of each glass. Top with champagne and add in a sprig of thyme and 2 blackberries!
Read the full recipe at Style Me Pretty Living
Blood Orange Mojito
Ingredients:
    -8 sprigs of mint
    - 1 ounce lime juice
    - 1 ounce light rum
    - 1 ounce blood orange juice
    - 1 tablespoon simple syrup
    - 2 ounces sparkling water
Instructions:
    - Add the mint and lime juice to a tall glass
    - Muddle together to extract the flavor of the mint
    - Add in rum, blood orange juice and simple syrup
    - Top with sparkling water and ice. Serve immediately
Read the full recipe at Chef Savvy
Elder Flower Spanish Gin Tonic
Ingredients:
    -2 oz St. George Botanivore Gin
    - 6 oz Fever Tree Elderflower Tonic
    - 2 pink grapefruit slices
    - A few juniper berries
    - Rosemary sprig
Directions:
    - Chill the drinking glass for a half hour
    - Add ice to the glass. Squeeze one slice of grapefruit into the glass and discard
    - Add the other grapefruit slice, the juniper berries, and rosemary sprig to the glass
    - Pour gin into the glass
    - Add the tonic and stir before drinking

Read the full recipe at Craft + Cocktails
Tuscan Pear Vodka Cocktail
Ingredients:
    - 1 part Grey Goose La Poire Flavored Vodka
    - 1/2 part limoncello liqueur
    - 1/2 part premium ginger liqueur
    - 3/4 part blood orange juice
    - 1/4 part simple syrup
Directions:
    - Add all ingredients to a cocktail shaker filled with ice
    - Shake vigorously, and strain into a rocks glass rimmed with sugar and filled with crushed ice
    - Present with mint leaves, dried pears or lemon confit
Read the full recipe at David's Cocktails
Fresh Berry Bramble
Ingredients:
    -2 ounce of gin
    - 1 ounce lemon juice
    - 1/2 oz of simple syrup
    - 1 ounce of sweetened berry puree
    - 1 cup of crushed ice, plus ½ cup for shaking cocktail
    - Garnish: fresh strawberries and blackberries

Directions:
    - In a shaker, combine ice, gin, simple syrup, and lemon juice
    - Shake then strain mixture over crushed ice
    - Top with sweetened berry puree and garnish with fresh berries

Read the full recipe at Drink Wire
Save
Save
Save
Save
Save
Save
Save